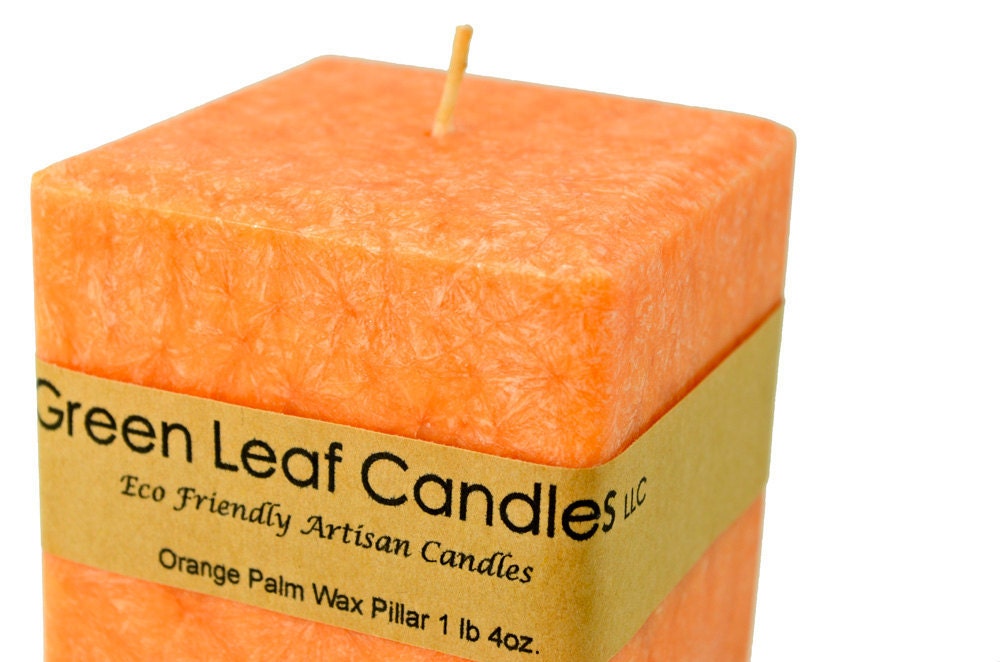 I love burning candles! I always have. I'm not sure if it's the lovely colors or the fragrance...or that I'm a bit of a fire bug, but I love candles! When I came across
Green Leaf Candles
I was really excited because they are eco-friendly. Rather than being made of paraffin wax, derived from petroleum, they are made from all natural ingredients. This is better for the ecological health of the planet as well as the health of your own personal environment, home or office. I had a chance to catch up with
Yvette
, the creative force behind Green Leaf Candles to get the scoop on her unique approach to candlemaking and business.
Q: How long have you been selling candles?
Yvette
: I have been selling candles for about 2 and a half years, which is also the same amount of time I have been on Etsy. It was the first place I started selling my candles.
Q: What types candles to you make and sell?
Yvette
: I make and sell Eco Friendly candles from soy wax, palm wax and beeswax. I also use recycled glass containers, available in a wide array of colors for my soy container candles. I strive to make the most Eco Friendly candles possible.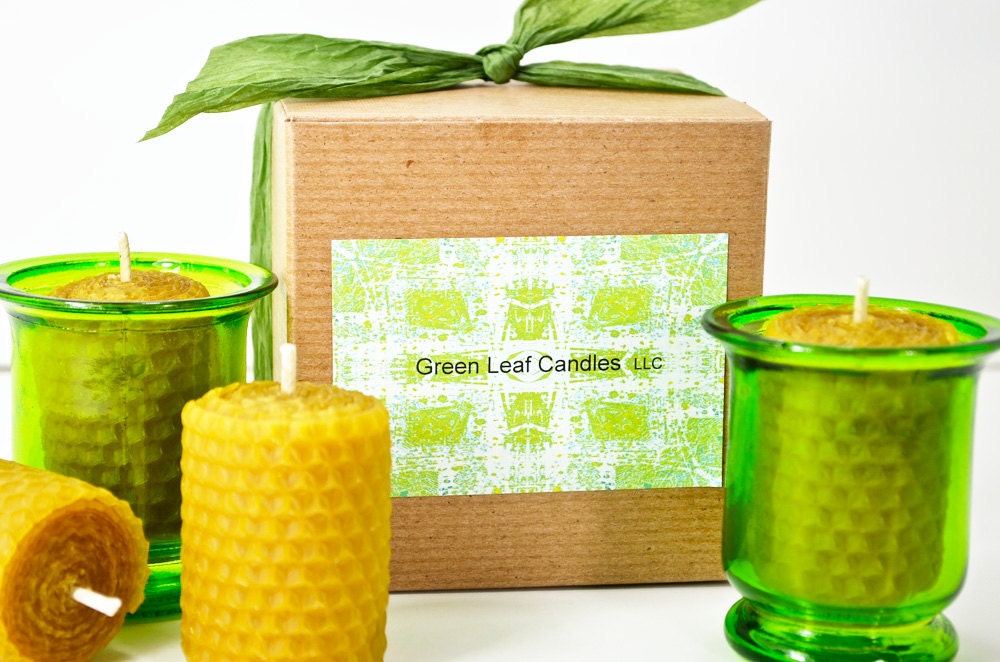 Q: What makes your Eco-Friendly candles unique compared to other type of candles?
Yvette
: Everyone loves something different. The candles I make are unique for many reasons. Palm wax, for example, is a really beautiful wax that naturally forms a crystalline appearance as the wax hardens and cools. It is a much more labor intensive type of candle to create - but worth it. My soy container candles are also unique because I use a variety of very colorful recycled glass containers that are specifically designed for candle use. This is important as not all types of containers can withstand the prolonged heat from a candle. I like the beauty of candles to speak for themselves, which is one reason I choose not put company labels on the outside of my container candles. I feel this would take away from the beauty of the candle and the recycled glass container.
Q: How long have you been working in your area of interest?
Yvette
: I first started making candles when I was I kid. I used old milk carton containers (the waxed paperboard type) as molds and then would tear it away after the candle had cooled. I have always been the creative type and was always trying out some form of art.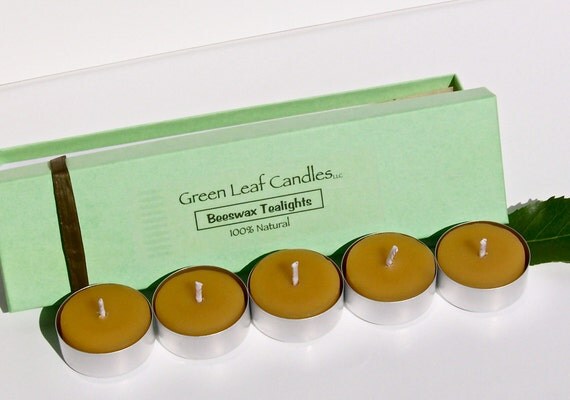 Q: How did you get involved in your area of interest?
Yvette
: Before I started making and selling Eco Friendly candles I occasionally bought department store candles. It frustrated me how so many of them burned horribly and I didn't feel like I got my money's worth. They would tunnel, the wicks would get buried in the wax, or sometimes the wicks would break and float up to the top. So, I started re-melting them.
At this time I began to learn a lot more about wax and candles. Being a health conscious person I discovered how unhealthy paraffin wax is, where it came from, and more. I looked around for an Eco Friendly candle but found none, thus I began making my own.
I also wanted to make a candle that burned efficiently, to use as much was as possible if not all of it. I felt this was important not only from an environmental point of view, but also from a quality and efficiency aspect. I decided to bring my candles to others and show that candles can be enjoyed while being environmental friendly.
Q: What prompted you to start an Etsy shop?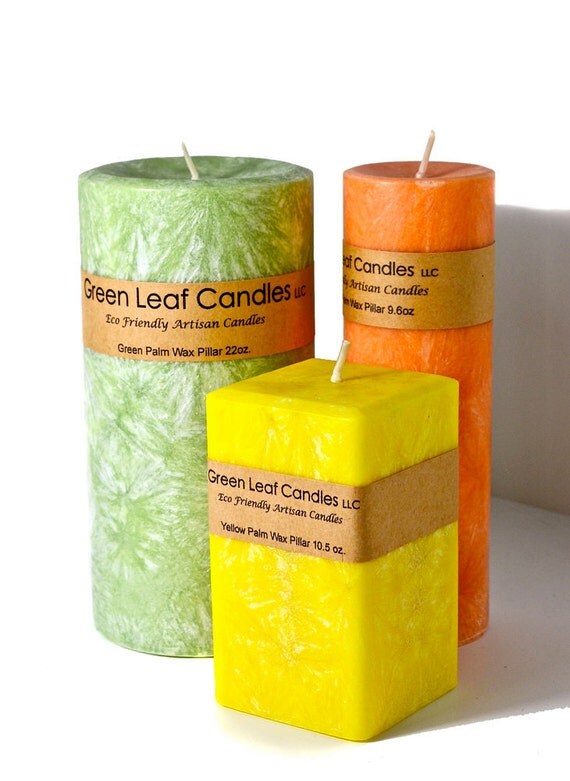 Yvette
: I first heard about Etsy from a next door neighbor and decided to check it out. It looked like a great marketplace to meet other artisans and sell handmade products. As I wasn't selling online yet I thought this marketplace would be a good place to start.
Q: How did you come up with the name for your shop?
Yvette
: I wanted a name that said Eco Friendly and modern. I did a lot of brainstorming for quite a while. Many times when I was driving home from my day job I would try to think up new possible names for my shop. After I had a big list I ran internet searches to see if those names were taken. The domain websites were helpful with this as well.
Q: What is your favorite item in your shop and why?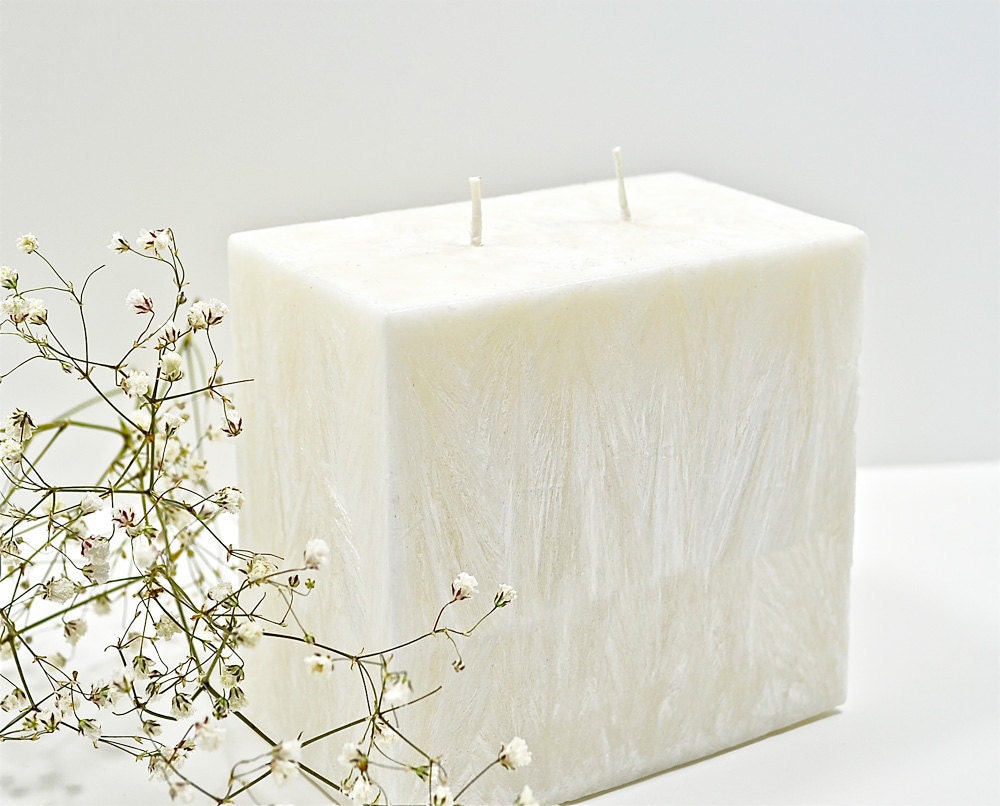 Yvette
: The Modern unity candle is one of my favorites. It really says wedding to me. It is one candle with two wicks. I like that because to me it symbolizes two individuals (represented by the two respective flames) and those two individuals working together as a team, as one (as represented by the one candle).
I guess that's the romantic in me. I also like the modern and unique look of it.
Q: What inspires you?
Yvette
: Nature
Q: What advice would you offer someone interested in getting involved with your area of interest?
Yvette
: I would suggest that they first do a lot of research into the type(s) of candles they want to make, and gather as much info as possible. Then practice, practice, practice, and thoroughly test your candles until they are just right.
Q: Can we connect with you elsewhere online?
Yes, you can find me on
Twitter
@GreenLCandles
And of course I always welcome emails and convos through my Etsy shop.
Click here
to email Yvette and Green Leaf Candles